If you're going to be technical, there is no easy way to do inventory management for your restaurant. It's a complicated and tedious process that requires hours of labor to make sure that everything's in place.
Without the proper technology, you or your designated restaurant staff will be needing to spend hours calculating your inventory, creating a purchasing system for new ingredients, and looking for more affordable alternatives to maximize your profit.
It's an integral process in every restaurant operation. However, because of the rising crisis in the restaurant hiring process and labor management, it's understandable if you or other restaurant operators don't put so much thought into this process.
But, this practice prevents you from enjoying the many wonders inventory management can bring to the table. It's not just about an orderly stock room, but an effective system will enable you to reduce your food cost, manage your food waste, and efficient labor management.
This is where restaurant technology enters the picture. Just like every other type of restaurant solution, a restaurant inventory management system will allow you or your staff to be on top of this process.
Read along to know more about some practical ways you can use your software to make this procedure easier and streamlined.
Useful Tips For An Effective Restaurant Inventory Management
A proper restaurant management strategy is more than keeping track of stocks; it is accurate monitoring and management of the use of each ingredient and supply in the appropriate quantity in any dish, as well as accurate menu pricing.
The method of taking your restaurant inventory may differ depending on what kind of inventory management you receive. It doesn't hurt to use a technology that could help you produce a more accurate result, even if traditional par inventory sheets served their purpose.
Your inventory management system is so much more than simple inventory. It's complex software that allows you to control and manage every resource you have and utilize it to its best potential.
Here are some of the tips on how you can use this technology to your benefit.
Create a recipe cost
Recipe costing is one of the basic features of an inventory management system. It's a feature that allows you to calculate the real costs of your ingredients. Through this process, you'll be able to budget accordingly as you have an idea of how much a plate costs.
Also, considering the inflation rate and the irregular fluctuations in the market price, it's helpful to have a system that will automatically adjust every cost according to the current market pricing.
This feature allows you to generate more accurate reports, forecasts, and menu planning. If the ingredient price will be a bit higher than usual, your system is automated to adapt your selling price, look for an alternative ingredient, or design your serving portion.
Generate reports real-time
One of the major benefits of restaurant technology is that it enables restaurant owners, such as yourself, to produce reports with accurate and real-time data. These reports will be your basis and your guide when you create important and informative business decisions.
Additionally, with this type of data in your hands, you can easily track and monitor the situation of your inventory. Managing its progress will also not be a problem since you can analyze it on the reports and data stored in the system.
Before technology, inventory management is done through manual labor which can compromise the data you'll produce. Using a system, however, allows you to create more insightful reports and decisions with the help of the data you've generated.
Manage food waste
Food waste is a major cost in the restaurant industry. In the UK, £682 million is the cost associated with food waste in this industry. And as a restaurant, a business relying heavily on slim profit margins, there's nothing good about a waste of any forms, especially with food.
If you don't have a system that enables you to monitor your stocks and ingredients, then you may end up understocking or overstocking. With overstocking, you could end up with spoiled raw ingredients. Of course, you won't be serving those anymore.
This means your investment in that set of ingredients is already down the drain. However, using inventory management technology, you can monitor your inventory levels efficiently. Through this, you can determine if you need to purchase another set of ingredients or not.
Knowing the optimal level of inventory you should have is a must to avoid having your ingredients stocked up and spoiling over time. Keep in mind that the management of food waste is a cost-effective method to protect your revenue.
Prevent stock outs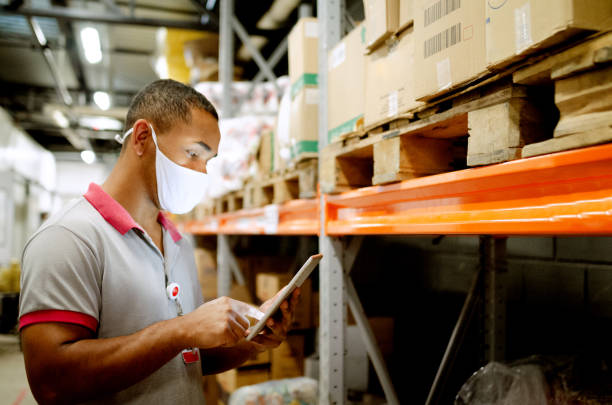 As a restaurant, you can't just give an excuse to your customers that you can't serve a certain meal because you don't have the set of ingredients for it. While it may be acceptable, it affects your image as a food business operator.
With inventory management software, you can identify which part of your menu is generating profits and should be prioritized when it comes to purchasing. Since you can see the profitability of each menu item, you can now make sure that you have all of its ingredients complete and you're always properly stocked. Keep your takeaway Epos system in mind, too.
Boost the team culture
You may not see its direct connection but you can boost your team's morale through proper inventory management. Because you managed your inventory well, all of your top-selling menu items will be available for your customers.
Meaning they don't have to relay the "sorry it's not available at the moment" message to your customers. There will be no need to receive and absorb the demands of unruly customers who like to make a big deal out of the said issue.
Managing your restaurant inventory is more than just managing your stock and supplies.
It will help you make better buying decisions by giving you an understanding of which menu items are selling well.
Several interrelated tasks go into running a restaurant. If one task fails, the whole operation may be disrupted. While it may not be the most exciting part of restaurant management, restaurant inventory management plays an important role in kitchen operations.