With 909.8 million active users, Instagram is considered one of the world's top social media platforms. And if you're looking for an effective yet affordable way to grow your restaurant marketing through social media marketing, you may want to level up your game with Instagram.
Restaurant marketing through social media marketing is known for its low price yet successful marketing campaigns. It provides satisfactory results with customer engagement and brand awareness without investing too much on your end, and through helpful tools, Facebook, Instagram, and Twitter marketing would be a breeze.
This article will help restaurant owners like you master Instagram restaurant marketing and discover the wonders this social media platform can offer for restaurants and other food businesses.
WHY INSTAGRAM RESTAURANT MARKETING IS CONSIDERED AS A GAME CHANGER
Facebook is still considered superior among the social media platforms there is. Still, Instagram offers a different exposure and marketing positioning that will significantly benefit restaurants once appropriately used.
Remember that social media marketing is not just about visibility; it is more about having visibility to the right people. With Instagram, there are targeting features that can benefit restaurants like yours to use its algorithm for your marketing strategy.
Here are some of the factors that can determine a single post's rank. Try to start working on some of these by incorporating it into your next posts.
Relevance. Determine if your post is relevant to your targeted audience and demographics.
Timing. More recent posts tend to be ranked higher by Instagram.
Engagement. Likes, comments, and reposts of posts affect your post's rank on Instagram.
Interaction. Posts from accounts that Instagram users interact and engage with are ranked higher as well.
Searches. If customers and your followers regularly search for your profile, your posts will be ranked higher.
Time spent on a single post. The time spent on your posts (not through scrolling) affects the ranking of your posts on Instagram.
HOW INSTAGRAM WORKS FOR RESTAURANTS
Instagram is basically a social media platform used to share photos and videos (publicly or privately) with cross-sharing options to other social media platforms such as Facebook and Twitter.
Millennials, the driver-generation of present times, patronize Instagram. More than half of the global users of Instagram are under 34 years old, meaning if you properly utilize this platform, you'll be able to reach out potential customers from the Millennial group and you have the chance to convert them into loyal customers.
User-generated content is also one of the easiest ways how Instagram helps restaurants and restaurant owners such as yourself. UGC contains contents and posts from your customers about your restaurant. It's free marketing for your restaurant, and you just need to organize and link those posts properly to direct it to your restaurant's account.
The use of hashtags also affects the performance of your Instagram page. Your potential customers and existing customers can check your posts altogether through a hashtag as well. To link your posts properly, it is ideal for creating a unique hashtag for your restaurant business. Through this special hashtag, users of Instagram can see from a particular search everyone that has been in your restaurant.
Here's a step by step guide on starting your journey with Instagram as part of your restaurant marketing strategy.
Set up your Instagram profile. Choose an appropriate account handle, profile photo, and BIO.
Work on your content strategy. Instagram's core is all about sharing photos and videos. But don't be complacent as other restaurants are stepping up their game through Instagram. Ensure that you nail every content you post and make it inspiring and relevant to your followers. Be consistent in posting.
Engage with your followers. Interact with your customers by liking and replying to their comments. You may also repost their contents and mention them on your page. Give them proper recognition, especially your loyal customers. You may conduct live on Instagram and contests as well.
Widen your reach on Instagram. Study the power of hashtags and implement it on your posts. Geofencing and geotagging is also a huge part of Instagram; try to incorporate it into your contents as well. Use Instagram ads properly and make the most out of this cheap feature.
Monitor and track your KPIs. Tracking your key performance indicators enables you to pivot your marketing efforts to those that drove the most value. Some of the KPIs to track are profile views, new followers, unfollows, engagement rate, the best time to post, and comments.
INSTAGRAM RESTAURANT MARKETING STRATEGIES
Try to implement these effective marketing strategies using your Instagram account.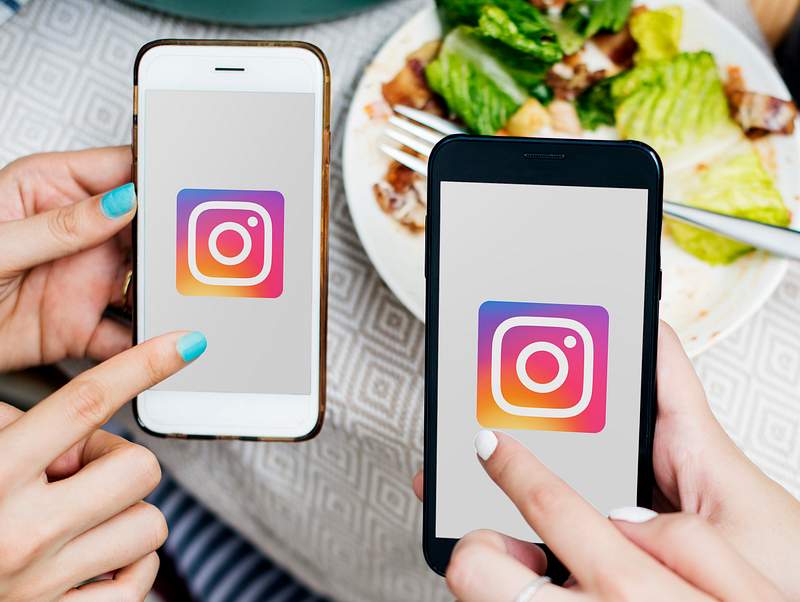 REACH OUT TO LOCAL FOOD BLOGGERS
Food bloggers and influencers have a certain reach and range of followers. If you manage to partner up with the perfect food blogger for your restaurant, you can boost your Instagram presence through their followers. It is ideal to start with local food influencers as their following would be most likely composed of the same customers you're targeting within your local community.
GIVE STAFF PROPER EXPOSURE
If you're looking for a platform to humanize your brand, Instagram may be a great pick. You can easily set the tone of your restaurant by making your profile about your staff and employees. Give them a proper shoutout and tell your followers about your featured staff. This can also lead to increased customer engagement as customers can connect easily with people.
BE CONSISTENT IN ENGAGING WITH CUSTOMERS
A strategy that's often taken for granted. If you want to increase brand awareness and customer engagement on Instagram, you better start to engage with users that can be your potential customers. Reposting, sharing, and liking their posts about your restaurant is one way, but make sure also to check your comment and mention section.
MAXIMIZE INSTAGRAM VIDEO
You can share more than just photos on your Instagram account. You may post videos on your profile, but videos are usually effective on Instagram stories and live. Sharing quick highlights of your day or an event, or even showing behind the scenes of your usual serving day will surely boost customer engagement.
CONNECT WITH THE LOCAL COMMUNITY
Utilize the community you belong to. Make your restaurant and takeaway searchable by partnering up with other local businesses and by using geolocation. Geolocation allows other users, not just your followers, to discover and learn about your restaurant (also boosts SEO results).
UTILIZE LINKS ON INSTAGRAM STORIES
Links on your Instagram stories boost customer engagement. You can link contests, and link specific posts on your stories. Create exciting campaigns such as contests, menu or dish polls, and pin it on your profile to keep those CTA links featured.
EASY TIPS TO MASTER INSTAGRAM MARKETING FOR RESTAURANTS
Now that you know the basics for Instagram marketing, here's a much detailed guide on how to utilize this social media platform to increase your social media marketing potential.
Create your own hashtag.
Provide high-quality photos.
Run giveaways and contests.
Utilize food and drink holidays and events.
Try to stick on your own feed colour palette.
Use scheduling tools (to properly time your posting).
Highlight your best sellers, and don't forget to promote your new items.
Balance your posts.
Participate in Instagram "takeover."
WHAT TYPE OF INSTAGRAM POSTS ARE USEFUL FOR RESTAURANT MARKETING
Posts of photos and videos can get boring and dull for your customers. And with the fact that most of your audience on Instagram came from Millennials and Gen Z, it is just reasonable for you to check out other types of posts that can boost their interest in your brand.
Campaign Designs. Try posting events, flavours, themes, and items that allow you to create a campaign for your restaurant. Give your Instagram followers something fresh to talk about.
Quotes. Give your followers insight into your values, humour, philosophy, thoughts, and mission by posting quotes that they can relate to. This is also one way to bring the character out of your Instagram account.
Infographics. Don't be afraid to educate your customers. Keep them engaged with your brand by providing relevant information through graphics, make those tons of information bite-sized and digestible for them.
Carousels. This type of post is the one that requires users to slide to get more of the content. Instagram algorithms acknowledge more slides as more engagement. And more engagement means higher rank for your posts.
Instagram Ads. It is an affordable way to widen your reach using Instagram. Your post will be reaching the right profile.
Instagram Stories. Keep in mind that 1 out of 4 Gen Z lookout for recommendations on stories, and 500 million active users on Instagram are on IG story. Are you sure you want to miss those numbers out?
WHAT ARE THE BEST HASHTAGS FOR RESTAURANTS TO USE
If you're just starting to strengthen your Instagram game, here's a list of the most used hashtags in the food and restaurant industry.
#restaurant
#restaurantrescue
#top50restaurants
#restaurantdesign
#restaurantequipment
#restaurantinterior
#restaurantstyle
#restaurantdecor
#dinnertable
#restaurantmarketing
#food
#foodporn
#foodphotography
#foodlover
#foodstagram
#foodie
#foodartchefs
#foodblogger
#foodtrends
TIME TO STEP UP YOUR INSTA-GAME!
As part of a very challenging and competitive industry, restaurant owners should not be afraid of trying new things for their restaurants. Sticking to your old ways is good, but it is also time to show your customers that you're not afraid to face changes and that you can easily pivot your way into this digital transition.