As a restaurant owner, the words Food and Health Inspection might not be your favourite. But you're also aware that no matter where you operate, as long as your service includes food preparation and food service, you'll be asked to comply with the Food Safety Law of your area.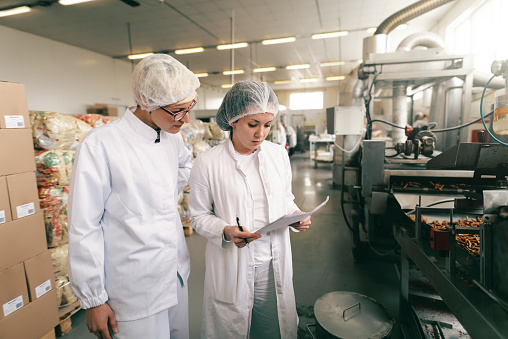 This article aims to serve as a guide for every restaurateur that aims to ace every Food and Health Inspection they'll have. This is a complete guide about the process of Food and Health Inspection with restaurants and even home kitchens, including some helpful tips to get that high score health inspection rating.
WHAT IS A RESTAURANT FOOD AND HEALTH INSPECTION?
It is basically the process of inspecting your whole restaurant, staff, and food products for possible hazardous and unsafe materials. It is usually done by the health inspectors or environmental health officers of your local health department.
For takeaways, caterers, or other food business from home, food and health inspections are conducted by environmental health officers or health inspectors to ensure that your operations carry out food safety regulations.
Food and health inspections are done to make sure that your restaurant, takeaway, or other food business is observing food safety management. The assigned health inspectors must follow their Food Law Code practice in order to conduct this process properly.
WHAT TO EXPECT DURING A FOOD AND HEALTH INSPECTION?
Well there's no really telling what the assigned health inspectors will do first during their health inspection. But whether you're an experienced restaurateur who has an idea about the process of health inspection, or a brand new restaurateur, additional knowledge regarding the whole process will be beneficial for you.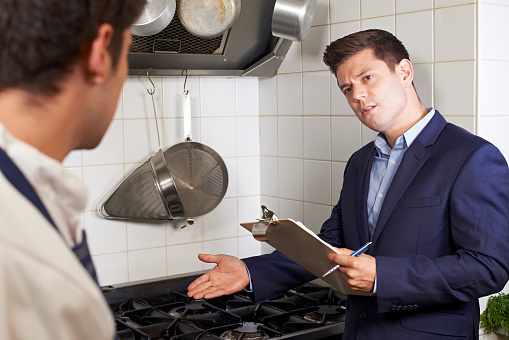 Food and health inspections are random and unannounced. It is important to stay calm and composed if a health inspector pays your restaurant a visit. Just make sure to provide them what they need, most likely they'll first ask you for your permits and other relevant documents regarding food preparation and food safety.
Of course, it is also important that you ask them about their credentials and make sure that they are legally allowed to conduct health inspections on your premises.
A food and health inspection from licenced health inspectors is something you cannot and you should not refuse. You may follow them during their health inspection in order to answer their questions and take note of their findings.
WHAT TO EXPECT FROM YOUR HEALTH INSPECTORS?
Here are some of the things that your health inspectors should observe during the process of their health inspection.
Display Identification (ID, licence)
Provide feedback about their findings and the results of their inspection.
Inform you about the food law, and what are the recommended best practices for food safety management.
Justify why they asked you to take some actions. (This should be in writing)
Give your restaurant a workable time for you to comply and meet the requirements. (Except if there's an immediate risk to public health)
Inform you about the procedures in appealing against the local health authority action.
WHAT ARE THE AREAS TO LOOK OUT?
With food and health inspections, they'll be looking out for 3 primary things namely:
Hygienic process of food handling
Condition of the premises
Food safety management of the restaurant
Hygienic process of food handling
Under this category, health inspectors will determine if you're observing safe food practices.
Process of food handling (how it is prepared, thawed, cooked, re-heated, cooled, and stored).
Cross-contamination methods (if it's properly observed by restaurant staff)
Good kitchen practices (proper handwashing of restaurant staff, etc.)
Condition of the premises
Health inspectors will be checking the following under this category.
General condition of the premises (cleanliness, pest control, layout, lighting, ventilation)
Temperature control
Maintenance of appliance, equipment, and the construction
Cleaning schedules and procedures
Food safety management of the restaurant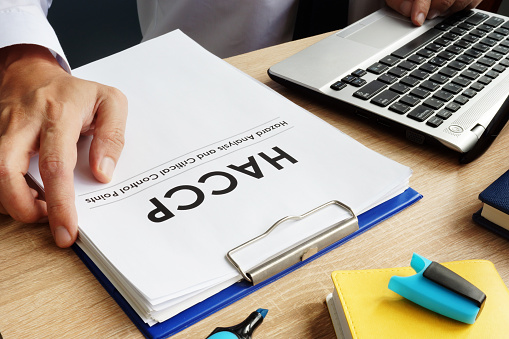 For this category, health inspectors will check how the restaurant manages and documents their practices and procedures to ensure food safety.
Food safety management procedures (eg. HAACP)
Staff management (food safety and health trainings, health monitoring)
WHAT TO DO DURING A FOOD AND HEALTH INSPECTION?
Aside from allowing the health inspection and compliance with the requirements of your assigned health inspectors, here are helpful tips of what to do during a food and health inspection on your restaurant.
Ask and verify the health inspector or officer's credentials.
Stay with the health inspector and observe.
Be cordial and pleasant, but avoid giving something that can be misinterpreted as bribery.
Acknowledge and sign the inspection report.
Don't be afraid to ask questions or any clarification about their findings.
HOW OFTEN ARE FOOD AND HEALTH INSPECTIONS?
Health inspectors can conduct health inspections anytime, the frequency of visits will depend on the number of factors your restaurant or food business carries that are potentially hazardous to public health.
Whether it's your first opening or the local health authority receives a complaint, the typical health inspection will be conducted every 6 months.
The first visit varies depending on what type of business you are operating, then the next visit will depend on your first health inspection. According to the Food Law Code of Practice, businesses are scored from A-E, identifying if they're high or low risk to public health.
A = inspection at least every 6 months
B = inspection at least every 12 months
C = inspection at least every 18 months
D = inspection at least every 2 years
E = inspection at least every 3 years
And since all health inspections are conducted unannounced, it is important that your operations and the whole restaurant staff are observing the best practices that complies with food safety management and regulations.
HOW TO SUCCESSFULLY PREPARE FOR A FOOD AND HEALTH INSPECTION?
First things first, it is important that you provide a health inspection checklist in order to keep your restaurant staff informed about the practices they should observe to comply with the food safety regulations. Here's a guide to create your own health inspection checklist.
Hygienic process of food handling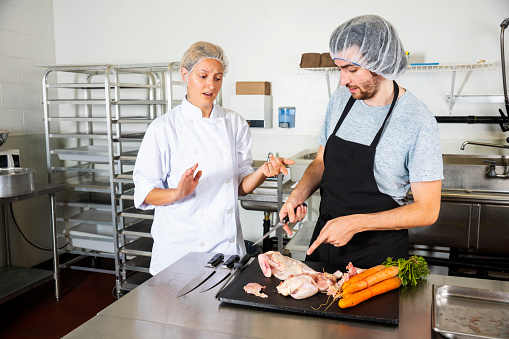 Proper food storage (food should be at least 6''above the ground).
Chemical should be stored away from food products.
Avoid contamination by storing food in a clean and dry storage.
Adopt the FIFO method.
Protect food from cross-contamination.
Frozen food products must be thawed properly.
Restaurant and kitchen staff observe proper hygiene, observe proper hand washing practices, and use clean equipment and tools for food preparation.
Provide a clean preparation area for raw foods.
Proper temperature must be observed when cooking different types of food products.
Condition of the premises
Organized prep, washing, rinsing, and sanitizing stations.
All equipment and tools are thoroughly cleaned.
Utensils must be protected from dust and other sources of contamination.
Make sure that the thermometer is visible and accurate.
Storage areas, refrigerators, and freezers should be cleaned.
Proper ventilation and pest control are present.
Proper garbage disposal procedures should be observed.
Area must be clean and free from pests.
Food safety management of the restaurant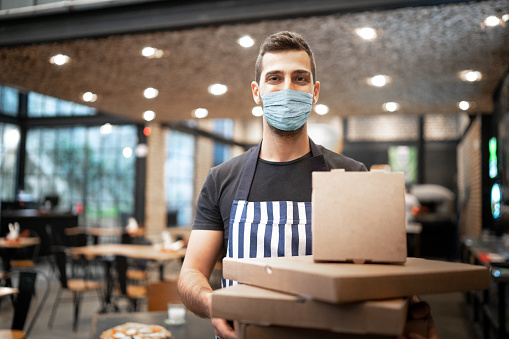 Observe a food safety system.
Record of food safety practices.
Restaurant and kitchen staff should have sufficient training with food handling and food safety procedures.
After running through your own health inspection checklist, here are some tips in order to properly prepare your restaurant and your whole team with a food and health inspection.
Always review your food safety plan. It is ideal to check the HAACP plan for your restaurant.
Learn about the most common health code violations and stay updated.
Make sure your team has undergone proper training, if permit is needed, always ensure that they have it with them.
Conduct daily maintenance inspection on your own. Establish a cleaning schedule for your staff.
Ask your staff about the possible inquiries a health inspector might ask.
WHAT ARE THE MOST COMMON HEALTH CODE VIOLATIONS?
Make sure to create a work system that prevents your restaurant staff from doing the following health code violations.
Mislabelling of products, especially with expiry dates.
Cross-contamination.
Failure to check temperatures. (For food storage, preparation, and cooking)
Improper storage of chemicals, and other cleaning items.
Poor hygiene (presence of facial hair, failure to wear hairnets, eating and smoking near the food preparation areas, wearing of unclean uniform and open shoes)
Operating with unclean washrooms.
WHAT HAPPENS NEXT IF THERE'S A VIOLATION CONDUCTED?
It is important to stay calm if it appears that you've violated the health code. Compose yourself and formulate a way on how to implement a solution within the given period of time for your restaurant. You may also appeal the violation if you have reasons to disagree with it. Find out if your app is affected.
If it's a minor violation such as mislabelling of products, you'll be given a specific time frame to correct things out. It is possible that no financial penalty will be given. Just make sure to talk to your team about the importance of food safety management and make sure they observe proper practices for food safety.
Possible closure of your restaurant and a fine will be given if your restaurant business has major violations. Failure to comply with mandatory food safety regulations will lead to permanent closure of your restaurant. Major violations are usually using unsafe food sources and cross-contamination.
Just keep in mind that whether it's minor or major, it's still a violation and it will be recorded. Any violation can harm your brand and image to your customers.
FAQS ABOUT FOOD AND HEALTH INSPECTION
What are the first things a health inspector checks?
Aside from asking the permits and paperwork of a restaurant, health inspectors usually gauge an establishment while washing their hands inside the washing area.
What determines the failure in the management?
Health officers are more critical on how they see managers respond on their inspection.
What happens after the health inspection?
After the visit, the health officer will provide feedback and give you a score. Some cities require restaurants and other food businesses to display these scores in order to inform the customers as well.
Is it possible to request for another inspection?
If you disagree with the result and filed an appeal, most likely you'll be re-visited by an environmental health officer to make sure that you've complied with the food safety regulations properly.