One way to scale up a restaurant business is through franchising. Restaurant franchise and food-related franchise is a versatile area of the franchising world as it can adapt different budgets and still make it work for both franchisee and franchisor. Therefore, whether you're a starting entrepreneur or someone who's been in the Restaurant Industry for a significant time, franchising will always be a great chance to consider if you want to put your name out in the market.
Through digitization, restaurant franchise management and its process became simpler and easier for restaurateurs. The launching of restaurant franchising software allowed franchisees to create and maintain operations and procedures to help the whole franchise to become more profitable and effective. It's a system that allows franchisors to check on their franchisee and monitor their performance, through this they can take necessary actions should the situation require them.
This article aims to shed light on how restaurant franchising software works, and its key benefits to restaurant franchise management.
IMPORTANT THINGS TO KNOW ABOUT RESTAURANT FRANCHISES
Before digging deeper about restaurant franchising software, first here are important points you need to check out if you're starting to think that restaurant franchising is for you and your restaurant.
Restaurant franchises are not budget friendly. It is not a cheap venture.
There are different types of ownership in restaurant franchising.
There's limited to none creative freedom with restaurant franchises.
Business plan is still necessary if you opt to franchise a restaurant.
Restaurant chains are different to restaurant franchises.
It is a turnkey operation.
Here are some of the questions you need to answer in order to properly prepare yourself as an owner of a restaurant franchise.
What's the concept you're most passionate about? Do you perform well with that concept?
Are you financially prepared for a restaurant franchise cost?
What type of person is the franchisor?
Can you invest the right amount of time to your restaurant franchise?
What makes a restaurant franchise successful?
What type of assistance is to be expected from the franchisor?
WHAT IS A RESTAURANT FRANCHISING SOFTWARE?
As a restaurateur, if you opt to be a franchisee, the amount of investment you'll provide to a restaurant company is not something to be taken lightly. There's also concerns on how to recruit the suitable staff, when will be the return of investment, and what type of assistance will be given by the franchisor. With these in mind, having a proper tool that can help you design all the POS and EPOS system interfaces centrally is a huge advantage for you.
Restaurant franchising software offers everyone a smooth process for restaurant franchise management. It helps franchisees to share data that allows them to become a better business partner.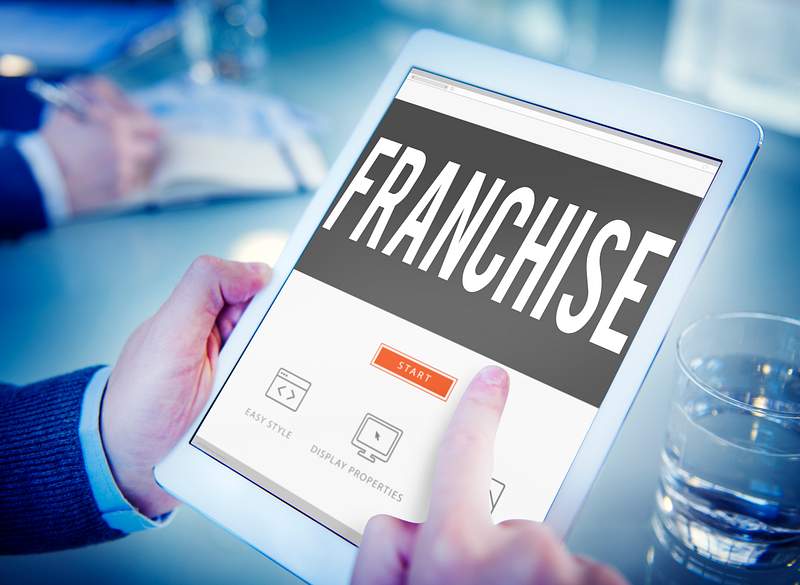 WHAT IS A RESTAURANT FRANCHISING ERP SOFTWARE?
ERP or also known as enterprise resource planning system is a system that brings together all the core components of a business, in this case, a restaurant franchise business. A cloud based ERP restaurant franchising software makes it easier for franchisees and franchisors to take control over their restaurant franchise business.
It allows them to bring all the data available together, and for franchisors, they can control their franchisees, manage their inventory, payments, and sales requirements across all the restaurants franchises from one place.
HOW RESTAURANT FRANCHISING SOFTWARE BENEFITS RESTAURANT FRANCHISE MANAGEMENT?
IT PROVIDES A CENTRALIZED INTERFACE FOR ALL LOCATIONS
Should you decide to be a franchisor or a franchisee, in restaurant franchise management having a tool where you can have a one POS or EPOS interface where you can monitor every integral operation of your restaurant business is a huge advantage for you. Franchising software, especially ERP franchising software gives you an interface where you can monitor and manage these integral functions.
IT KEEPS THE OPERATIONS ORGANIZED
If you have a reliable tool where you can manage every basic function of your restaurant franchise, you'll have an organized and productive workforce. Restaurant franchising software also enables restaurant owners or managers to see what part of the restaurant or staff is failing, thus they can take necessary actions on time.
IT HELPS WITH THE HIRING AND TRAINING OF STAFF
Minimize employee turnover by providing them a tool that's easy to use and understand. Restaurant franchising software can be incorporated to any existing POS or EPOS system, this way your staff can be easily trained with this new tool and they can implement it properly to the restaurant's operation.
IT GUARANTEES TROUBLE-FREE KITCHEN OPERATIONS
Restaurant franchises such as quick service restaurants are fast paced in nature. They often have plenty of menu options to offer, meaning they need to prepare not just only all the items from their menu, but all possible variations as well. Through restaurant franchising software, your staff can manage customer requests easily and can convey it smoothly to the kitchen.
IT GIVES BETTER BUSINESS OVERVIEW
By this time, you have realized how powerful it is to have sufficient data for your restaurant business. If you have the proper data, all important business decisions will be data-driven, giving it a boost on their success rate. Restaurant franchising software is a powerful tool for restaurant franchise management that captures data and produces reports that's served to be analyzed.
Pick up market trends, identify management risks, and monitor cash flow are just some of the functions you can improve on once you have the proper data in your hands.
MAIN FEATURES OF RESTAURANT FRANCHISING ERP SOFTWARE TO CHECK OUT
Here's a list of the key features of ERP software that restaurateurs have to look out if they plan to enter the restaurant franchise business.
It should have a master franchise management. Helps franchisors to control the management of their franchisees, and for franchisees to check data that can help them with their restaurant franchise management.
It should have payouts and commission management. Control payment transactions across all restaurant franchises centrally.
It should provide help for sales management. Monitor the sales performance of each restaurant franchise you have. You can also compare and perform performance analysis across your franchisees.
REASONS TO USE A RESTAURANT FRANCHISING SOFTWARE FOR RESTAURANT FRANCHISE MANAGEMENT
Still not convinced enough that restaurant franchising software or an online food ordering system can help you with your restaurant franchise management, here are the main reasons why you should give it a try.
It helps you make better business decisions and allows you to strategize better for your restaurant franchise.
It streamline your operations and make your workflow effective and efficient.
It improves your marketing efforts.
It gives you a helping hand with staffing and scheduling.
GIVEAWAY THOUGHT
As a restaurateur, you should know the immense power of restaurant franchising in expanding and growing a restaurant business. Though it has its fair share of disadvantages, its success is just too great that it's often overshadowed. It showed at the last Entrepreneur's 2020 Franchise 500, where 30% of the top franchises belong from food-related franchises.
Now that there's a reliable tool available to guide you in your restaurant franchising journey, maybe it's now time to visit again some plans that were put aside because of the pandemic. Take this opportunity, and start growing your restaurant business in this new normal setup.